Tokyo Bob Dylan Discography

TOKYO BOB 1st album
"The Midnight Special"
Tokyo Bob Dylan with Never Mending Tour Band
ANY OLD TIME / AOCD-1201
1.The Midnight Special
2.Million Dollar Bash
3.I Want You
4.Deportee
5.You're Gonna Quit Me,Baby
6.Knockin' on Heaven's Door
7.Love Minus Zero/No Limit
8.Friend of the Devil
9.Forever Young
<BOUNS TRACK>
1.Most Likely You Go Your Way (and I'll Go Mine)
2.Stuck Inside of Mobile with the Memphis Blues Again
3.Jokerman
<SECRET TRACK>
4.  ?
Total time of this CD is 72 minutes. It has amazing 13 tracks and papersleeve with OBI.
This is a great item for not only Dylan's collectors of the world but also all American roots music fans.
more info
KEN ROAD MUSIC Co,.
FAX +81-3-3490-5797
---
"May Your Song Always Be Sung"
The Songs of Bob Dylan Vol. 3
BMG 82876505672 (Germany)
DISK 1
1 Alastair Moock Let Me Die In My Footsteps
2 Rick Danko This Wheel's On Fire
3 Julian Dawson When I Paint My Masterpiece
4 Andy Hill & Renee Safier Seven Curses
5 Rex Foster Song To Woody
6 Robert Deeble w/Mandy Troxel Boots Of Spanish Leather
7 Two Approaching Riders Dark Eyes
8 Billy Goodman Billy 1
9 La Gran Esperanza Blanca Demasiadas Mannas
10 Martin Simpson Highway 61/Highway 61 Revisited
11 Develish Doubledylans Shot Of Love
12 Tolo Marton All Along The Watchtower
13 Zimmermen Not Dark Yet
14 Black Cat Bone f/Mick Taylor Blind Willie McTell
15 Onelinedrawing With God On Our Side
DISK 2
1 Eric Andersen & Massimo Bubola It's Aright, Ma (Iユm Only Bleeding)
2 Chris Whitley Spanish Harlem Incident
3 Hederos & Hellberg It Ain't Me, Babe
4 Alexandru Andries You're Gonna Make Me Lonesome
5 Ronald Bornv Black Diamond Bay
6 Wendy Bucklew Buckets Of Rain
7 Paul James I Shall Be Free
8 The Dylan Project Fourth Time Around
9 Steve Elliott Meet Me In The Morning
10 Elin Sigvardsson You're A Big Girl Now
11 Tankelaus Tid Kjaerlighetssjuk (Love Sick)
12 Steven Keene I & I
13 Elliott Murphy Dignity
14 Tokyo Bob Million Dollar Bash
15 Cruzados Rising Sun (rare track w/Bob Dylan on harmonica)

More Info'
---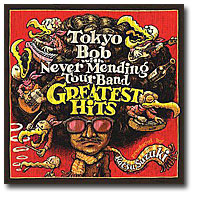 "Greatest Hits"
Tokyo Bob Dylan with Never Mending Tour Band
GOODDAYS / GSRS-2115

1. WAIT FOR THE LIGHT TO SHINE
2. WHEN I PAINT MY MASTERPIECE
3. DON'T THINK TWICE, IT'S ALL RIGHT
4. BABY, LET ME FOLLOW YOU DOWN
5. DESOLATION RAW
6. I'LL BE YOUR BABY TONIGHT
7. SHOOTING STAR
8. QUINN THE ESKIMO(THE MIGHTY QUINN)
9. LAY ,LADY, LAY
10. BALLAD OF A THIN MAN
11. ON A NIGHT LIKE THIS
12. CHANGING OF THE GUARDS
13. RAINY DAY WOMEN#12&35
---